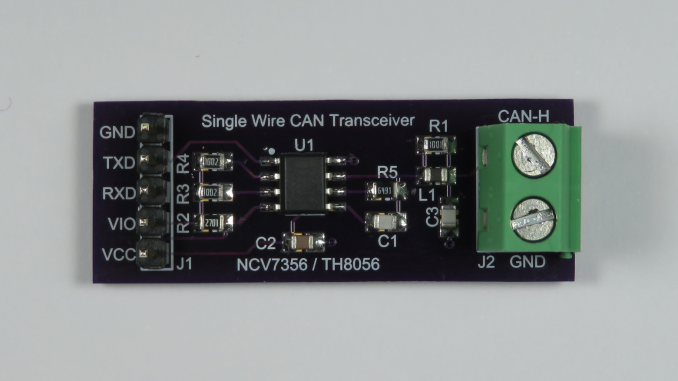 Single Wire CAN (SAE J2411) is commonly used in cost-sensitive Automotive applications where speed and cable length is not as onerous.
It is also useful in applications were a traditional CAN differential pair is physically not possible.
For example, on Type 2 Mennekes connectors used for Electric Vehicle (EV) charging, the communication between the supply equipment and the vehicle is performed via a PWM signal on a single Control Pilot (CP) pin in respect to earth. Tesla has used SWCAN to digitally communicate over this single pin.
Various SWCAN drivers are available and generally share the same compatible pinout (SO8 and SO14):
Philips AU5790 – Obsolete.
NXP (Freescale) MC33897 – Only available in 14SOIC.
Infineon (Siemens) TLE6255 – Obsolete – Only available in 14SOIC.
The typical data rate for normal communication is 33.3 kbits/s and for high-speed communication, 83.3 kbits/s.
This breakout board is for the SO8 variant.
Design Files
Design files can be downloaded from the Circuit Maker website. Circuit Maker is a free EDA tool from Altium.
The PCB for this design was fabricated by oshpark.com.